50 Small Apartment Living Rooms with the Best Space-Saving Ideas
50 Small Apartment Living Rooms with the Best Space-Saving Ideas
Space – there is plenty of it around in the universe and science will tell you that almost 99 percent of it is empty. Yet, we are constantly in search of ways in which we can maximize space within the four walls of our own home! It is a perplexing aspect of life and every week we come across various designs and ideas that aim to give your limited home a more spacious and cheerful vibe even while being aesthetic. But today we take this a step further by looking at the 50 best small apartment living rooms from across the world and understanding what we can borrow from these innovative and exciting spaces.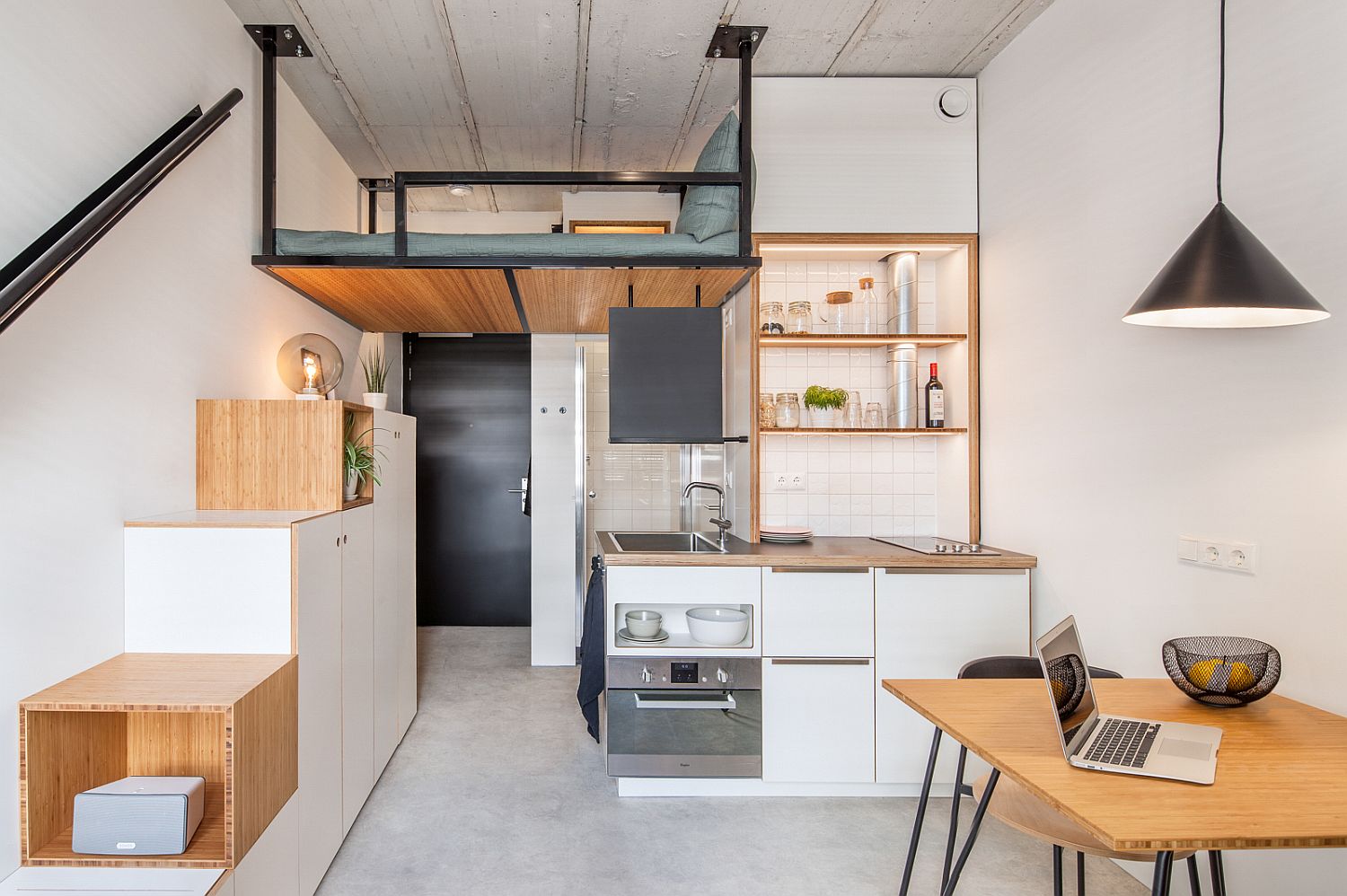 Making Use of Vertical Space
Since the focus today is on apartments with very little square footage, the idea of the living rooms in these homes is to make the most of what is on offer without giving the impression of a cluttered or overly ornate living room. Small is, of course, a relative term and an apartment just 25 or 40 square meters in the area might seem far too tiny for some and quite adequate for others. But the living rooms under the spotlight today belong largely to apartments no larger than 50 or 60 square meters in area and the first option in here is to maximize the wall space available.
The kid-friendly living room of the tiny apartment in Poznan.
Mezzanine level above the kitchen in this living room serves as a smart study!
Small living room of Taipei makes most of the vertical space with a loft level and built-in storage.
Utilize the space above the entrance as well for a more efficient small apartment design.
Loft bedrooms, reading nooks and even small mezzanine levels with additional areas are often the preferred choice. This allows you to create additional square footage that was previously non-existent and for those who are just getting their first apartment (alone or as a couple), this is more than sufficient. Steps leading to this area can also be used for storage and if you do not have enough room for a loft level, there are still ways to maximize the wall space with smart shelving and wall-mounted storage units.
Antônio Bicudo Apartment in Sao Paulo with loft bedroom space above the bathroom.
Small retirement apartment in Sao Paulo with a colorful and vivacious living space.
Rustic-modern attic apartment with living room in white.
The living room of 38 square meter apartment feels much larger than it really is!
Pastel filled the living room of micro-apartment comes with a Murphy bed niche as well
Scandinavian Style and Inspiration
If there is one style that is absolutely ideal for the tiny living room then it is Scandinavian! Modern Scandinavian decorating styles are perfect for small spaces and is anchored in principles of clutter-free living, loads of natural light and a backdrop consisting of neutral colors. Those who fancy a more eclectic look can combine Scandinavian simplicity with shabby chic beauty or even rustic charm by introducing a few accessories from the chosen style. Make sure though that bright color is still kept down to a minimum in here.
Bright living room of 26-square meter tiny Scandinavian style apartment.
Casual Scandinavian style decorating for the tiny living room.
Ceiling beams in wood for the white living room.
Decorating the small living room in a contemporary style.
Gorgeous gray living space of the light-filled Stockholm apartment.
Monochromatic living room in white.
The rug adds pattern to the lovely little apartment living room in Tel Aviv.
Scandinavian style is perfect for the small apartment living room.
Sophisticated living room in gray and white for the small Russian apartment.
Attic apartment in Stockholm with a living space that exudes Scandinavian style.
Walls with Textural Charm
Many of us tend to falsely believe that introducing elements that add textural contrast to a small living area will give it a cluttered look. Brick walls have bounced back up the trends chart in the last few years and they are a great way to bring in that 'something different' into the tiny living room without altering the visually drastically. Wood and white is another look that looks great in the small living space and allows it to blend in with the kitchen and dining area next to it with ease. Make sure that you introduce elements that give character to your home and do not stick to a decorating theme that is just too sterile.
Fun New York apartment living room with a brick wall.
Industrial chic 47-square-meter apartment in Moscow with concrete walls.
Lovely urban apartment in Warsaw with a brick wall for the living space.
Minimal renovated Barcelona loft with a living space that is uncluttered and bright.
Polished interior makeover for the small Barcelona apartment.
Tiny industrial loft style living room with brick wall section and ergonomic decor.
Ultra-tiny apartment Kiev with a bold blue couch in the living and smart room divider.
20-square meter small apartment in Russia draped in white.
Colorful modular sofa for the tiny living room.
Ergonomic and appealing small apartment living room with ample shelf space
Décor and Spatial Choices
Modern, Scandinavian and minimal are not the only choices in the small living room. Styles like eclectic, traditional, coastal and rustic are also easy to pull off if you get things right. Make sure that all the décor in the room has a common element which links it; be it metallic accents, color, style or just overall visual appeal and finish. It is in these already limited spaces that multi-functional décor comes in handy. Half-shelves that delineate space between the living room and dining area, wooden partitions that add sculptural charm and drapes that give you a flexible alternative – make sure your décor does not hinder the flow of light.
Custom decor for the small living room.
Custom plywood partition delineates living room from the dining area in this small apartment.
Dashing contemporary living room of Humaita Apartment in Porto Alegre.
Exquisite and eclectic living room of Paris apartment with gold accents.
Gold adds brightness to the tiny New York apartment living room.
Gray living room of uber-small 34-square-meter apartment.
Pops of pink and blue for the living room with modern industrial home.
Tiny apartment living room with budget-friendly IKEA finds and smart storage.
Beach style living room with decor that is filled with natural elegance.
Beautiful black and white living room with yellow accents
White, Light and Plenty Bright!
We did talk about how Scandinavian style was a great choice for those looking to give the tiny living room a revamp and the two main reasons for this are undoubtedly color and light choices it forces upon you. The easiest way to create a visually more spacious living room is by bringing in natural light. Yes, you can add recessed lighting and accent lights as well. But absolutely nothing works as well as natural light in here Even if you have just one tiny window in the living room, make sure it floods the room with ample light. A light backdrop in white or light gray along with a few smartly places floor mirrors will make this task a lot easier for you.
Modest living room of revamped Barcelona apartment filled with classic decor pieces.
Multi-tasking living room of historic Tel Aviv apartment with stone wall sections.
Open plan living space gives the small apartments a bigger visual appeal.
Shabby chic living space of a tiny apartment with pops of pink.
Uber-small living space in white for the small Scandinavian apartment.
Vancouver contemporary apartment with an open plan living.
All white living room of apartment is both elegant and simple.
Balcony brings light into a small apartment in Les Corts, Barcelona.
Bookshelf and gallery wall for the small Scandinavian style living room.
Bright blue couch for the small modern eclectic living room.